Some people love snow, some people hate snow, and some people have no idea whether it is snowing or not. Me? I'm Pro-Snow, as long as no one is getting hurt as a consequence.
One reason that I am Pro-Snow is that I was born in Massachusetts where snow sometimes drifted to the rooftop on the first story. sometimes higher, Vern. If you saw the
New England Patriots
playing against the
Arizona Cardinals
in the snow on television recently, that is about 30 miles from where I was born.
But I have seen snow in New Mexico too. From our house at
Fort Union National Monument
north of Las Vegas, New Mexico where we lived from 1974-1979, the
Sangre de Cristos
mountains in the distance boasted snow coverage 9 months out of the year. Once, driving at night from Albuquerque to Fort Union (about 165 miles), I got caught in a snowstorm going through
Glorieta Pass
east of Santa Fe. Driving my Ford Courier truck, slowly and surely, I was passing semi-trucks that couldn't move in the snow. Hours overdue, when I reached Las Vegas, I found my wife Chris who had driven into town from Fort Union and was driving up and down mainstreet looking for me.
But I have seen snow in this area, once in the month of May. I have helped clean the trail to the entrance. I have seen visitors slip and fall on that trail. I have seen NPS employees slip and fall on that trail. I have been one of those NPS employees who slipped and fell.
In any case, one of my favorite songs is "I'm Dreaming of a White Christmas," a song that I saw with my family when I was about six. So in case, we don't see snow outside this year, here is some documented snow: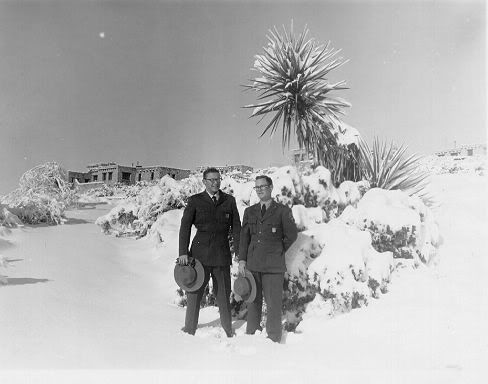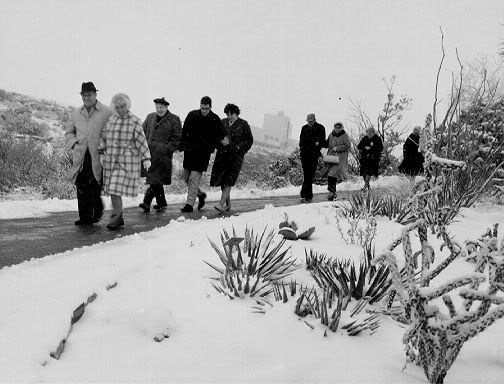 Snow or No Snow, Merry Christmas and Happy New Year
Bob Hoff