SHANTY TOWN MEMOIR
WOMAN RECALLS CHILDHOOD IN SHACK HOUSE
By Valerie Cranston--Special to the Current-Argus
Posted: 04/25/2009 06:13:31 PM MDT
Published in The Carlsbad Current-Argus April 26, 2009
It may seem strange that anyone could wax nostalgic about growing up in a place called Shantytown.

For Mitzi (Haney) Gorden, however, a recent trip to the site of the Shantytown where she grew up brought back many happy memories of life at Carlsbad Caverns, where her father worked.

The place known as Shantytown was located on the ridge above the natural cave entrance of the caverns, before the Civilian Conservation Corps built the stone buildings seen today at the national park.

Recently, Gordon shared memories of growing up at the caverns, her friendship with the White family and relationship with the caverns' first superintendent, Col. Tom Boles. She also visited the stone house her family lived in at the caverns for many years.

"This is the first time I've been back in the house. I'm grateful it is still here," Gorden said, noting the many memories flip-flopping in her mind while sitting in what was once the family living room.

Her parents, Ert and Mitt Haney, came to Carlsbad from Yell County, Ark., in 1929. Gorden was born in 1933 at the old Eddy County Hospital located at the corner of Greene and Alameda streets. Her father's first job was working for contractor Tom Wilson building the river cobblestone house for the caverns' superintendent, which once stood at the far east end of the property where Albertson's is today.

Gorden's father later went to work for the National Park Service in the maintenance department, building trails and doing whatever was needed. He moved the family to Shantytown, a.k.a. Shack Town or Shanty Row, when Gorden was 6 months old. The shacks were tarpaper-covered clapboard structures.

Her father put up partitions to separate the bedroom, kitchen and living area. The six shacks, located where the tennis courts later stood, had electricity, water and three or four outhouses for all to share.

"I don't ever remember being cold in the shack. We had our own electricity until about 10 p.m. and then we had to use oil lamps," Gorden said, noting a fuel oil stove provided warmth.

Gorden's mother went to work helping Mrs. Peterson cook meals for cavern employees, and then helped Mrs. Baker in the nursery and kennel. Her mother went on to manage the nursery for 40 years and her father sang in the first Rock of Ages quartet.

"I hated working at the nursery," Gorden said.

Her mother wasn't allowed to plant flowers around the stone house, only cactus. However, she was allowed to have a garden plot at Rattlesnake Springs, which is the water source for the park. Oak Springs was the first original water source for the cave operations.

The family moved into the stone house when Gorden was 8 years old. Her brother Russell, 11 years her senior, survived the Bataan Death March during World War II only to die in a Japanese concentration camp.

Childhood memories for Gorden included riding sotol stem stick horses, bathing in a galvanized tub and roaming the hills every chance she got. As a teenager, she rode the horses stabled at the park. Often, in the evening, she and her friends would follow the water pipeline down to Rattlesnake Springs, share a picnic and swim in the swimming pool constructed by the CCC.

"I just roamed the hills and we made our own fun. I didn't know any different than living out there. It was wonderful. There was also a swimming hole near Washington Ranch that we called Clear Pool. It was a beautiful little place," she said.

At one time, wild burros roamed the residential area before Helen Kenecott, park secretary, complained and had them removed. Her husband Herb was the stay-at-home dad for their children and an outstanding photographer who photographed much of the park, Gorden explained.

"We weren't allowed to have any pets, and I wanted one so bad," she said. But she was told pets interfered with the wildlife.

At any given time, 13 to 14 children her age were living at the caverns. Her father had a panel truck with seats in the back and would drive the school-age children from the caverns to White's City where they caught the school bus into Carlsbad.

Gorden remembers the torrential rain and flooding in the early 1940s, which produced a 30-foot wall of water raging down Walnut Canyon, blocking access and damaging the road to the caverns.

"It was pouring down rain and Col. Boles told us we had to take the old guano mining road to get home. It rained so much there was water ankle deep in the shack," she said.

In high school, Gorden was in the Troubadors, and if she needed to stay after school, she either spent the night with her best friend, Coradene Page, or her father drove into town to pick her up.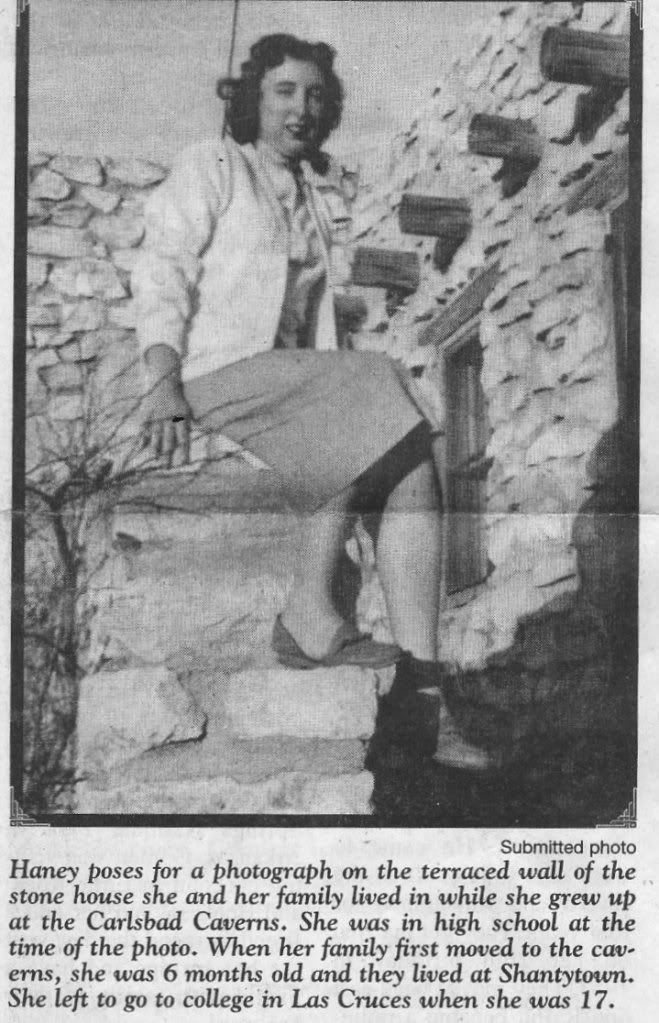 Gorden lived at the caverns until she was 17 and then went to college in Las Cruces. She was acquainted with all the commercial bus drivers that stopped at the caverns, so she would get free rides to El Paso and back.

She met her future husband, Ralph Gorden, when she was 15. He came to work as a tour guide at the caverns and worked there for four years. They got married on her 20th birthday in 1953. They moved back east and Ralph became a radiation chemist for the National Bureau of Standards. They raised daughter, Shawn, twins, Russell and Ralph, and son, Timmy in Washington, D.C., and Maryland.

Gorden's parents moved into Carlsbad in the early 1960s. Her father died in 1968. In 1982, she moved back to Carlsbad to care for her mother, who died in 1985. Ralph came to Carlsbad in 1984, and died in 1988.

Talk of growing up at the caverns brought back so many memories for Gorden, such as her first pair of boots, which were white and bought for her by Jim White Sr. She remembered an Easter Sunday he left a big basket under the cedar tree in their frontyard when they were still living in the shack. White's wife, Fannie, was a good friend of Gorden's mother.

"I still have the baby doll he gave me on my 7th birthday," Gorden said.

"He and my dad were great friends and you might find them in the afternoon on one of their days off patronizing one of the local establishments at White's City or Carlsbad," she said, noting it was no secret they were drinking buddies.
Recently, Gorden donated her father's scrapbook along with various other paper and photo memorabilia to the Carlsbad Caverns historical collection.

Gorden didn't know Jim White Jr. very well growing up, but he and her brother were friends. When she moved back to Carlsbad in the early 1980s, she became good friends with the younger White and his wife, Marguerite.
"They were a big part of a group of great friends that kept me going after my husband died," Gorden said of her long-time relationship with the White family and Boles.

"Seems like I always knew Col. Boles. He loved young people and was an amateur photographer. He developed his own pictures and kept great albums. He sent me postcards from all over the country," Gorden said.

After Boles left the Carlsbad Caverns, he went to Hot Springs National Park in Arkansas. Gorden was visiting her aunt in Little Rock, and Boles invited her and a friend to spend the day, visit the hot springs and have a picnic with family in their backyard.

"I will always have the fondest memories of Col. Boles and all of my park service family. Carlsbad has always been home and I was homesick for 35 years," she said.

Gorden made many trips down into the caverns, either walking in the natural entrance or riding the elevator down just to eat lunch.

"Jim (White Sr.) let me down in the guano bucket and we walked a little ways," Gorden said, noting she stopped counting in high school after about 650 trips into the caverns.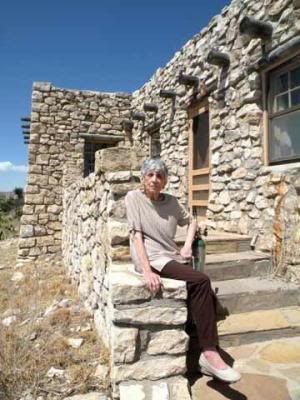 "I'd love to be able to go one more time," Gorden said, still brimming with memories of her visit to the stone house.
Photo caption—
Mitzi (Haney) Gorden recently visited the stone house she grew up in at the Carlsbad Caverns. She s sitting on the terraced wall of the stone house she and her parents, Ert and Mitt Haney, called home for many years. Her recent visit to the stone house, now used for cavers and researchers, sparked a great many memories. Submitted photo