By Stella Davis
Carlsbad Current-Argus Staff Writer

Posted: to the Internet 04/18/2009 09:06:46 PM MDT
Appearing in The Carlsbad Current Augus, 04/19/09

CARLSBAD — With white gloved hands, Carlsbad Caverns National Park Superintendent John Benjamin carefully drew items out of a box. Like a child at Christmas who has received that prized gift, he finds it difficult to hold back the excitement he feels each time he picks up a boxed item.
The objects of his excitement were well-preserved letters, diaries of daily life at the park spanning from 1929 though 1949, and never-before-seen photos, prints by renowned artists and yellowed Current-Argus newspapers chronicling the park's rise to greatness as a national treasure and the man in charge Col. Tom Boles who lead it to great heights during his tenure as the park's first superintendent.

"This is stupendous. There is so much here. It exceeds our wildest expectations," Benjamin said. "Everything in these two boxes is original. They are not copies. We have a lot in our archives about the early years of the park, but nothing like this. These things are priceless."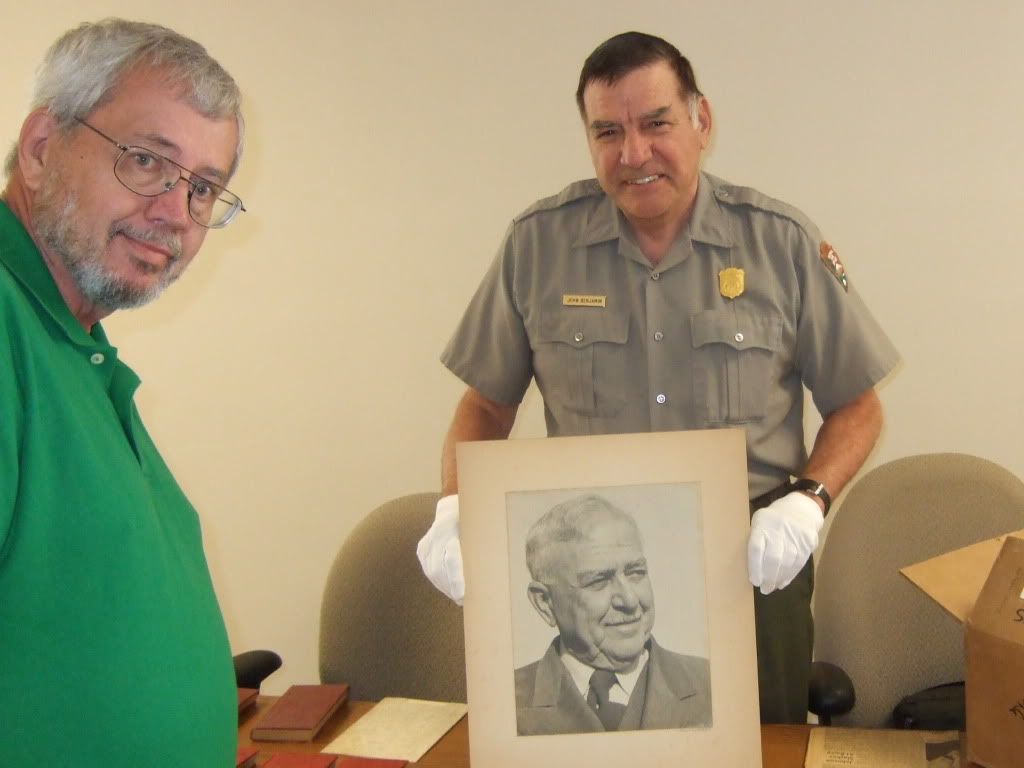 For 40 years, the items were stored in the attic of Jim McGuire's Alabama home. McGuire whose mother, Margaret McGuire, was the only child of Boles said for years he had intentions to donate the items to the park, but he had never gotten around to it.

Then, in January of this year, McGuire's son, Bo, a student at Arizona State University, decided to stop at the park on his way home to Alabama to see the caverns.
"I had always heard about the caverns and how my grandfather played a hand in its development. It was a family legend," Bo McGuire said. "I had never been to the caverns, so I thought it was time I visited. I was not disappointed. It was wonderful. What was really great was that everyone at the park still knew my great-grandfather's name. When I went up to the information desk at the park, I introduced myself and explained who I was related to. The lady at the desk told me to wait. She then put me in touch with David Kayser (park cultural resource manager). I put him in touch with my dad, who took it from there."

Jim McGuire said he inherited the memorabilia from his mother. His grandfather died at the age of 92 in 1973 in Carlsbad.

McGuire said after his son put him in contact with Kayser, plans were made to donate the memorabilia.

"We are taking our son back to school in Arizona (after the spring break) and decided to stop in Carlsbad to donate the items my grandfather had accumulated during the time he was superintendent. I know this is where they belong. The park will take very good care of them."

Jim McGuire's wife, Susan, said Bo was named Ashley Boles McGuire, but has always been called Bo in honor of his great-grandfather.

"This is an exciting day for our family, especially for Bo. His dad has told him a lot about his grandfather and the work he did as the park's first superintendent. He finally was able to come here to see for himself his great-grandfather's legacy."

As the McGuire family chatted with park historians past and present Park Service employees at the park's administration offices on National Parks Highway left their desks to see what all the excitement was about. They, too, were amazed at the collection they had the privilege of viewing.

Benjamin, still brimming with excitement, reached for a framed photo with cracked glass.
"Oh boy, look at this. Do you know who this is? This is truly priceless."

The man sitting behind a desk in the photo autographed to Boles is Horace Albright, a conservationist who was a co-founder and second director of the National Park Service. The 1929 photo was taken shortly after Albright was appointed National Park Service director. Albright and Boles were friends.

During Albright's four-year term as director, he fought successfully for establishment of three national parks: the Great Smoky Mountains, the Grand Tetons and Carlsbad Caverns.

In 1981, Albright, who also held a law degree, was awarded the Medal of Freedom the nation's highest civilian honor by President Ronald Reagan for being instrumental in convincing Congress to pass legislation that established the National Park Service in 1916.
Albright left the Park Service in 1933 to join the United State Potash Company in Carlsbad and served as president until he retired in 1956. However, he continued to remain active in park and conservation issues. He died in a Los Angeles nursing home at the age of 97.

Like Albright, Boles also went into the potash business after he left the park service in the late 1940s.
Bob Hoff, volunteer Carlsbad Caverns National Park historian, said Boles left the park to take a position at Hot Springs National Park in Arkansas. He officially retired from Park Service in February 1951 and moved back to Carlsbad to join the publicity department of U.S. Potash as a part-time employee.

Hoff said that during Bole's tenure with the potash company, he invited world-renowned photographer Ansel Adams to come to Carlsbad to photograph the underground mine. He said it was a natural progression for Boles to take Adams to the caverns to photograph the splendors there and put the caverns on the map as a place to see.

Jim McGuire said that although he has lived in Alabama for many years, Carlsbad was home to him during the summers when he was in college.

"I lived in Carlsbad for about five years in the early 1960s. I worked for Cavern Supply Company (a concessionaire company contracted at the park) and during the summers when I was a college student I actually worked at the caverns," he said.

Benjamin said that some of the memorabilia will eventually be put on display in the park's new visitors center. Some of the collection will require a little restoration and preservation. Cataloging the collection will also take some time, he added.

Benjamin said the park is in the process of locking in a contractor to put together an exhibit plan for the park. He said once the plan is in place, the park will move forward with putting together exhibits for public viewing.
"Col. Boles was very influential as the first superintendent at Carlsbad Caverns. We will certainly have an exhibit relating to him and his work. This collection donated to the park by his family is really awesome. I can't wait to start reading a lot more of Col. Boles' diaries. I can't believe the good condition they are in. They have been well preserved."