Dear Mrs. Sharon Boles Batchelder:

Please excuse my delay in getting back to you. Retirement life, especially with a three-year old grandson, who is always in our hearts, minds, and souls as he zigs one way and zags another, stays busy around our home when he is here; also I have a few hobbies that occupy my time, and, of course, the duties around the house expected of a retired husband.

I keep telling my wife that I do not mind helping around the house, but that expecting me to do things "up to her high quality standards" requires lots of "extra" time from a slowpoke trainee like myself.

In the 19 years that I worked at Carlsbad Caverns National Park (of which thirteen of those years I served as the Park Historian) Tom Boles was one of my favorite historical figures in the park's story. It was (and still is) easy to develop knowledge of Superintendent Boles because (1) he was the boss for nineteen years, and (2) he authored the Monthly Superintendent Reports.

Yes Ma'am, Superintendent Boles was a very important man in the history of our park. When he came here from Hawaii National Park in 1927, the name of the park was Carlsbad Cave National Monument. Three years later on May 14, 1930, the park became Carlsbad Caverns National Park, a "promotion" in complexity and status in National Park Service park designations.

To my knowledge, no book about Tom Boles exists, so obviously, as far as I know, no such book is available for sale. What I wrote for my Caverns History Blog in December 2006 is, of course, just a summary of some points that I consider key ones about Tom Boles.

Did you notice in my post that In November 2006 that a relative of Thomas Boles' named Nancy Lee asked me about him? Do you know her?

On the subject of Boles family relatives, concerning Alfred H. Boles, the relative in your family who wrote a book about the Boles family—are there any copies of that book existing that the National Park Service at the caverns might borrow for copying for our park library?

As far as Thomas Boles and Will Rogers "double-dating," I haven't ever read any reference to that, but it seems that it could be possible since Rogers and his wife visited in 1931 (if I recall correctly) and Rogers and his wife might have "double-dated" with Boles and his wife Jimmie. Non-master of etiquette that I am, I do not know if marriage couples can "technically" double date.

About the girl in the picture with the ostrich egg, I do not know anything about Boles' grandchildren. All I know is that he had a daughter named Margaret. As far as I know, Margaret is the girl standing in the "shaft of light" picture inside the caverns entrance. An interesting aside is that the shaft of light is a phenomenon that occurs just once a year in the summer for a couple days.

Thank you very much for offering information to the park about Tom Boles. Such assistance from people like you increases what we know about the park's history.

Sincerely,

Bob Hoff
Carlsbad Caverns Volunteer-in-the-Park
Former Park Historian


Other pictures you might enjoy, Mrs. Batchelder

(L) Tom Boles and Jim White.
(R) Tom Boles in his office (not sure if it is at park or in town--BH).
Below: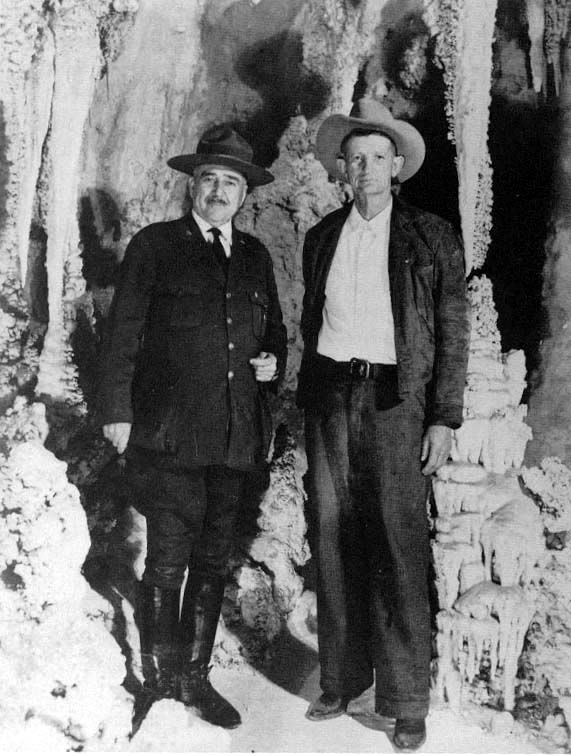 (L) Boles at "New Cave" or "Slaughter Canyon Cave."
(R) Boles (far left with rifle) with unidentified group of men; man in middle may be Chief Ranger "Tex" Worley.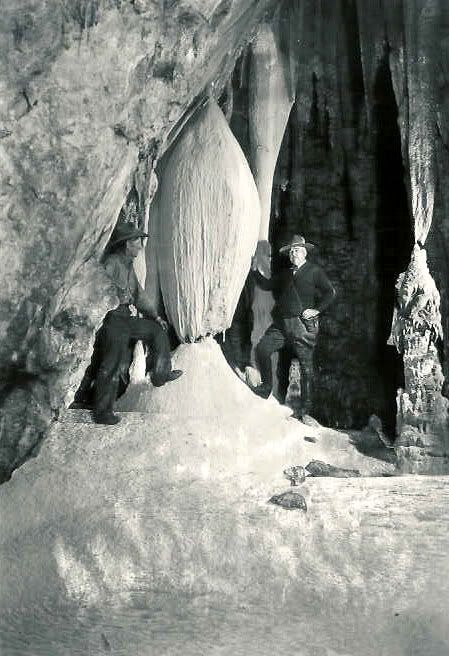 (L) Superintendent Boles as an older man.
(R)Superintendent Boles with Jim While, Amelia Earhart, and two local ranchers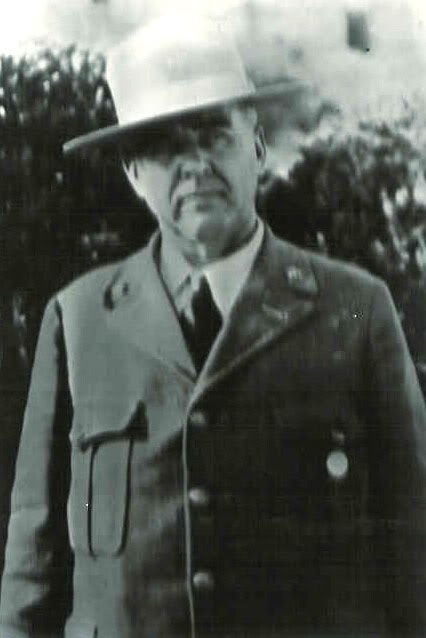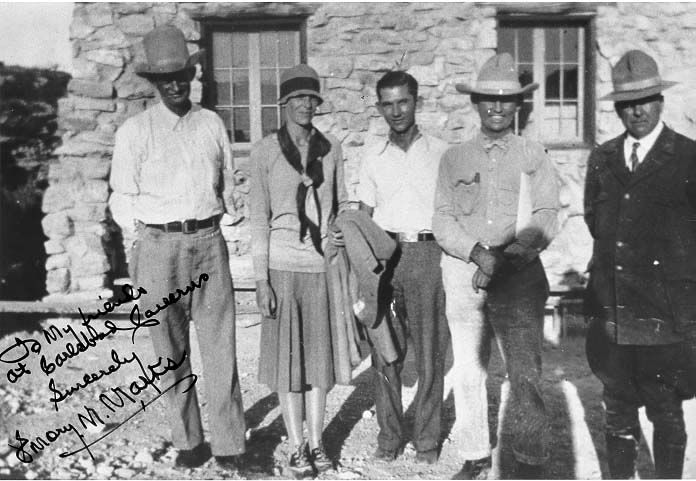 (L) Superintendent Boles and baseball great
Ty Cobb and Cobb's son, a student at the New Mexico
Military Institute in Roswell, New Mexico.
(R) Superintendent Boles with a Texas size "worm."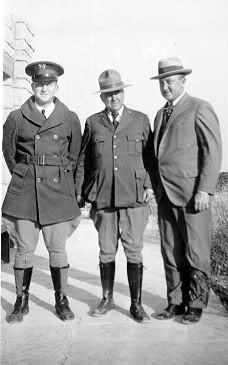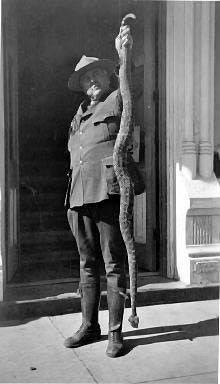 (L) Superintendent Boles and world's tallest
man.
(R) Superintendent Boles and Percy BigMouth,
Mescalero Indian Tribal Chief.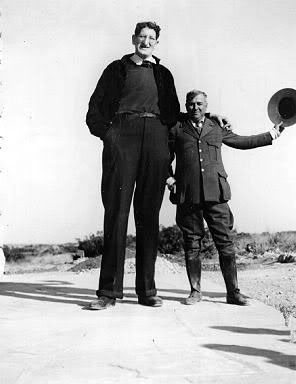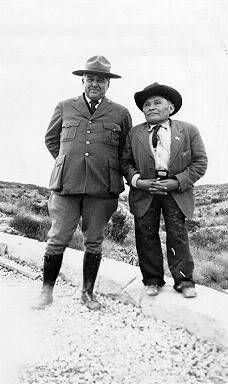 (L) Superintendent Tom Boles and his wife Jimmie
with an unidentified governor of New Mexico and his wife.
I believe that Mrs. Boles is on far left.
(R) Superintendent Boles, Jim White, another identified
governor of New Mexico, and Robert "Believe It or Not"
Ripley broadcasting his national radio show from the Big Room in the
caverns.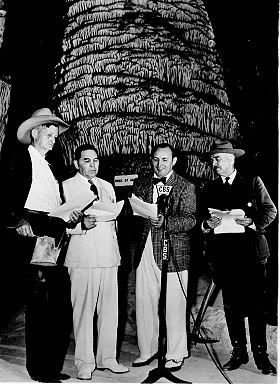 (L) Superintendent Boles at Rock of Ages with visitor group.
(R) Superintendent Boles during WW II drive.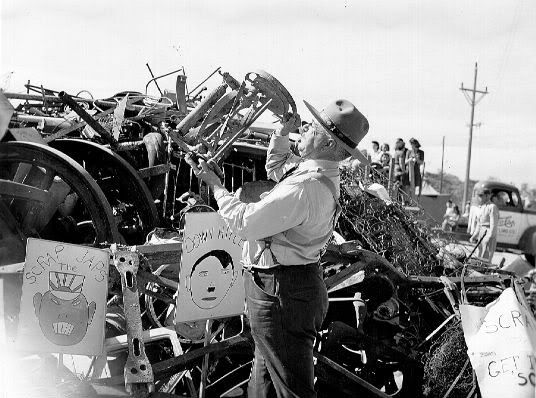 Boles' daughter Margaret in the "Shaft of Light."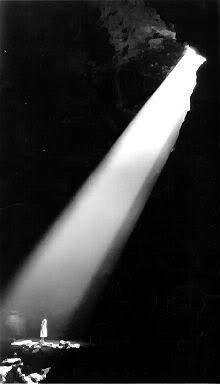 (Center) Superintendent Boles (fifth from the left in the front) and his staff in front of the ticket office, among the first park buildings constructed.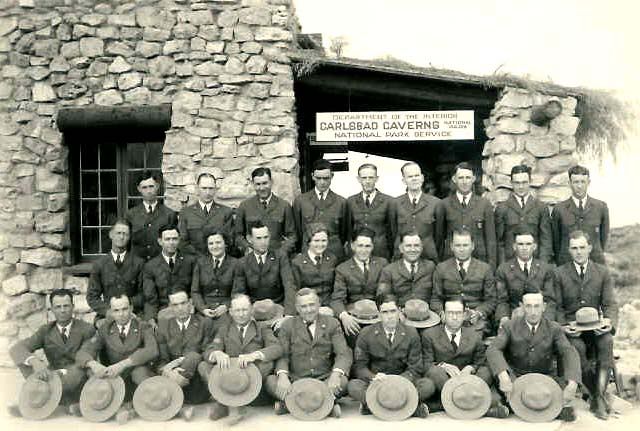 Mrs Batchelder, I hope that you have enjoyed viewing these photographs and accompanying information. If you would like me to send you electronic copies of any or all of these pictures, please notify me by return e-mail.

Mrs. Olive Johnson who was hired in the 1940s as a park guide by Tom Boles (and who later became a supervisory park guide) told me that she never met anybody more dedicated to the park than he was. In 1971, she was one of my supervisors at the caverns. She was a wonderful person and representative for the National Park Service. She passed away several years ago on her 90th birthday, highly respected by all who knew her. She credited Superintendent Boles for being an excellent mentor for her and many others as well.

Best of Luck,

Bob Hoff