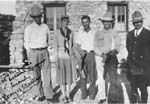 Easily one of my favorite Jim White images. Cross-reference: See post "Memories of Childhood" by Nancy Hultgren re: circumstances surrounding Amelia Earhart's visit.
2. Early 1930s, Jim White on the right, Superintendent Tom Boles on the left, and the ranger staff in between them. Notice the caverns ticket office behind them and the chief park guide's house on the hill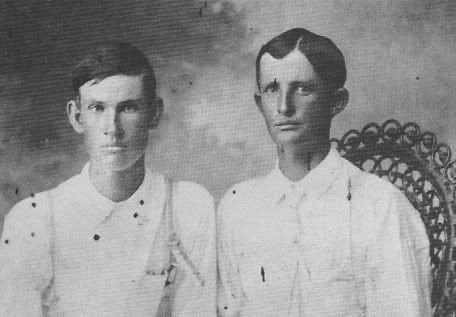 3. A picture of Jim White as a young man; the person to his left is an unindentified cousin. The photograph helps illustrate an article in the November 1972 issue The True West Frontier Times entitled "Readin', 'Ritin, and Retribution" by R.D. Sorrells. Copy of magazine, courtesy of former CAVE seasonal Rick Jackson, a great interpreter and history enthusiast. Say hi to his wife Annette Jackson, also a great and veteran and current employee of CAVE.