A group of National Park Service friends and co-workers from the past and present (and future) of Ted and Jana Firkins gathered at the home of Jimmie and Avelina Childress Saturday evening, April 11, 2009,to say goodbye and thanks and to wish them the best of luck in their new lives in South Dakota as Ted takes up his duties of Assistant Interpretive Chief at Wind Cave National Park and Jana continues in her teaching career.

Wind Cave National Park

Wind Cave National Park at Wikipedia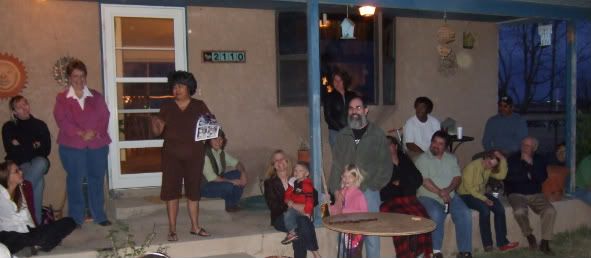 Hostess/M.C./party organizer (I am sure others helped organize) Avelina Childress, long-time CAVE employee and the #1 CAVE employee "In-the-Know" and #1 "backbone" behind many CAVE projects since the middle 80s, conducts part of the program. To her left is Ted's family, wife Jana holding their son Keith and their daughter Lily standing in front of Ted. Division Supervisor Marie Marek, Avelina's immediate supervisor, standing to Avelina's right near the front door of the Childress' home, is also a "In-the know" and "Projects Backbone" CAVE employee.
Many in the crowd expressed appreciation for Ted as a supervisor, as a friend, and as a "really cool guy." Others emphasized his knowledge and how much assistance that he had been willing to give fellow employees in the 9+ years that he has been working at the caverns. Still others brought up his professionalism, skill as an interpreter, and geological knowledge.

Some brought up his positive sense of humor and how his being good-natured sometimes resulted in inviting friendly joking from employees who he supervised. Others recounted their admiration for his devotion for getting the job done while making the caverns a positive and pleasant place to work.

Ted received several gifts in appreciation for his contributions as a CAVE supervisor and employee.

Ted told the crowd that their caverns experience had really fit him and his family and they would really remember the really good times that they had found here. He added that his family had also faced personal grief here, but he emphasized the good that he and his family had encountered in the great resources of the caverns and in the people of southeastern New Mexico.

He ended his talk by thanking everyone who had attended the party, as well as those who weren't able to make it, and by remarking that if any caverns employee could be even half as contented with their caverns experience as he had been, they would remember this place with great fondness.

















Gumo Interpreter Michael Haynie, husband to former CAVE Interpreter Stacey Haynie (who now has two children at home), Gosia Allison (in the orange shawl or pancho), a "super-humorist" and CAVE employee and highly experienced caver/explorer next to her husband Stan Allison, who works in Cave Resources at CAVE, also a highly experienced caver//explorer. In the back near the house is Management Assistant Pauler Bauer who several years ago was a CAVE Interpreter before taking a challenging career opportunity with another agency in Europe.



















The people I recognize in this picture are fees collector Carolina Rascon in the maroon coat in the back sitting next to Interpreter Joann Garcia in the white jacket. Both of these ladies I remember from the times that I could walk without limping or stumbling. Last night my wife Chris was at a 3-hour Easter Mass with nine individual baptisms. When I explained to Chris my walking problems, including Avelina and others helping my up and down the steps of the front and back porches, Chris reassured me by saying that people who don't know me probably thought I was drinking.

True Backstory: from age 30 (1977) to age 40 (1987) I was a jogger, running 3-4 miles/day, five days a week. Then from 1986 - 2005, I popped in and out of the cave, filling in on schedules etc. I also did off schedule "walkouts" to contact visitors and exercise. On one day I walked out twice to see if I could do it. What really impacted me was helping on wheelchair or wheeled stretcher carryouts.

I have earned my wobbiness and unsteadiness, but I digress.




















Marie Marek and Jimmie Childress discuss Firkins Family party strategy in the kitchen.




















I wanted to take Jana and Ted's picture together, but he was out front talking to a couple fellas. Personally, I thought that this pix of Jana came out well, don't you agree?


A Couple Peeks Into the Past
(What did you expect from the ex-Park Historian?)

Bob Hoff, with the help of Ted Firkins, has hired a new SCA,, Jenna Duncan of Chandler, Arizona. Jenna will arrive the week of February 16, 2003 and work until May 10th in the park library and the museum. We also want her to get experience in other aspects of Resource Stewardship and Science as well as Education Stewardship and Visitors Services.

Jenna has a degree in journalism, writing and editing skills, an interest in natural history, and has worked for the Western National Parks Association, among other organizations. She will be arriving very highly recommended and we are glad to be able to hire her.

Note: Thanks to RS & S Chief Chuck Barat who got the funding for this position.
Source: Cavern News, December 19, 2002
**********
Jenna Duncan was a great hire, a real SCA winner (as most are). I imagine that this note really means that Ted hired her for me. BH--4/12/09
**********
I also found a note from about five years ago saying Ted was the acting Division Chief for a day, a GS-13 graded position. BH--4/12/09
AND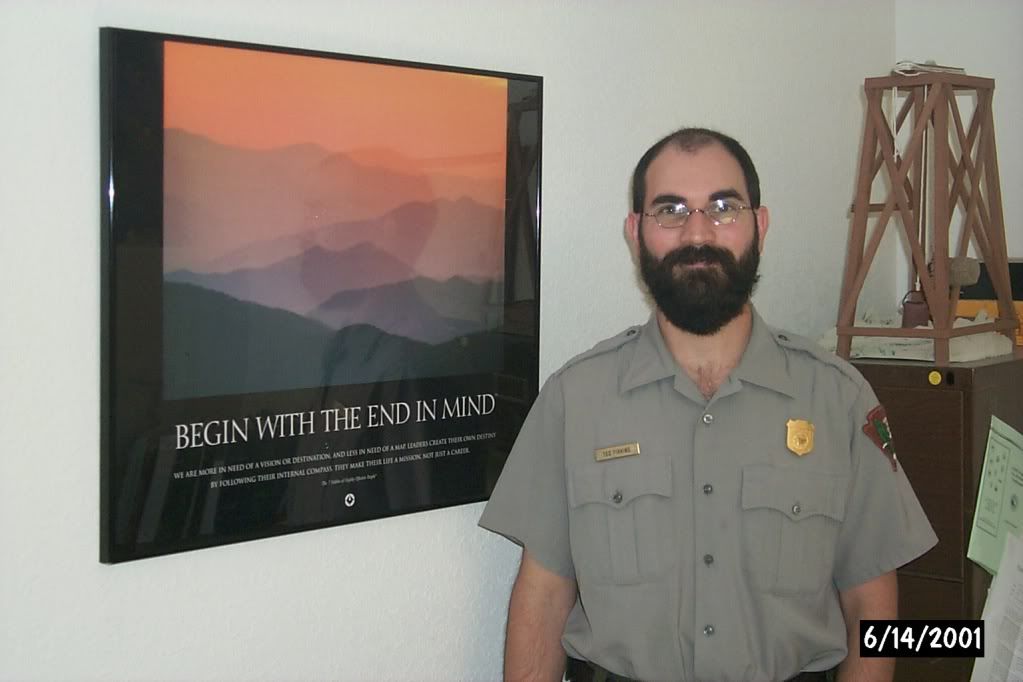 Good Luck and Best Regards,

Firkins Family

!!
Thanks to Jimmie and Avelina for their hospitality !