For people who have a strong interest in the story of Jim White and the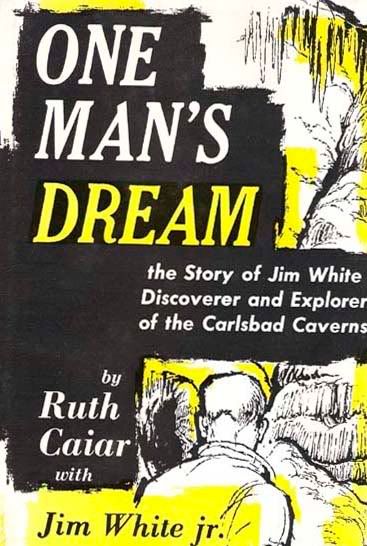 Carlsbad Caverns, it sometimes oocurs to them (as it has occurred to me)that it would have really been nice if Jim White himself had been able to tell and write his own story rather than having to rely on writers who had their own motivations and understandings of White's experiences.
For me, this book is the cloest document that posterity has of Jim White's voice. Not that he was was around in 1957 when it was published (he passed away in 1946), but the author, Ruth Caiar, was the sister-in-law, to Jim White's son: Jim White, Jr.
In the "Acknowledgements" section, author Caiar thanks Mrs. Jim (Fannie) White, Sr., and Mrs. Etienne de P. Bujac, whose lawyer husband labored so hard, though in vain, to get Jim his position back in the National Park Service. This was the chief guide position that White resigned for health reasons in 1929 probably under the mistaken notion that another caverns position would be forthcoming. She also acknowledges other friends of Jim White like Judge Sam G. Bratton, New Mexico Senator Dennis Chavez, Major Richard Burges of El Paso and Judge E.S. Shattuck, among others. These were some of the people closest to Jim White, Sr., people who knew him and what he had accomplished in the years that he was associated with the caverns.
This book is in a sense the White family's explanationof their frustration because of Jim White's ill treatment from the National Park Service in the later years of Jim's relationship with the NPS. The White family's disappointments are supported by the historical record, and in retrospect, I for one, am surprised that the NPS wasn't kinder to the man who had done so much at the caverns.
For me, the chink(s) in White's personal armor were far outweighed by his contributions. I don't understand the thinking of the NPS individuals who sought to marginalize Jim White.
Click here for an on-line copy of this book.
One Man's Dream
To return to Caverns History Blog from One Man's Dream document, click on left blue arrow at the top of the browser.