In this article, I am comparing the lives of two Hispanic men--Daniel Fernandez and Claude Fernandez (no relation). Though growing up in different places at different times, Daniel and Claude both served as young combat soldiers, both received combat awards, and both exemplified lives of service.
Claude Suniga Fernandez was born on December 22, 1922 in Carlsbad, New Mexico, graduated from Carlsbad High in 1940, and entered the army in January 1941. As a 20-year old sergeant stationed in Sicily, Claude wrote a letter in August 1943 to his brother Orlando in Santa Fe, saying in part,
Dear Lando,
Received your letter today and was very glad to hear from you. I hope that Mother and Dad enjoy their visit to Santa Fe. Tell her not to worry about me. Perhaps by now you have received my other letter where I told you I am in Sicily. All Carlsbad boys still o.k. We got the Germans on the run, so this thing can't last too long now, but they sure gave us hell for a while…"Had a close shave the other day. A shrapnel from a German 88 m.m. went right through my helmet. The helmet has two holes and I am going to do my best to bring it home, if and when. Still can't figure out how it missed my head. All I know is that God was with me at the moment and I pray he never leaves me. The German soldier is a damn good soldier, but no superman. There is nothing like an American soldier.
Sergeant Claude Fernandez fought in WWII in Sicily, Italy,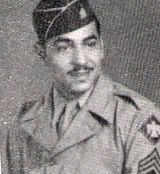 France, and Germany. He was discharged in June 1945 and was awarded the Purple Heart and Cluster. After the war, he attended the University of New Mexico. In June 1947 at age 24, Claude began a second career of uniformed service for the United States government, joining the National Park Service and receiving a temporary park guide job at the Carlsbad Caverns. He received a permanent park guide job in April 1949.
Thus began Claude's second career of service to others. His constantly high work ethic in the National Park Service earned him increased responsibility: he received promotions to Tour Leader (1952), to Supervisory Park Ranger (1956), and to Chief Park Guide (1968) at the caverns. In August 1971 he transferred as Superintendent/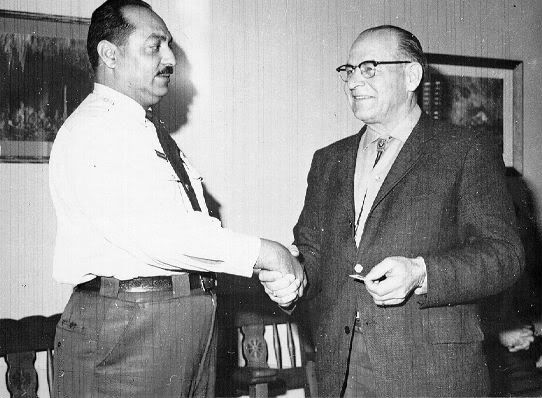 Park Manager) of Fort Union National Monument (near Las Vegas, New Mexico. While at the caverns he received a Superior Performance Award and a Quality Increase Award.
Claude devoted himself to job excellence, influencing all who worked with him. Mrs. Olive Johnson, now 88 years old who worked and supervised with Claude said that Claude believed that, "every park visitor deserved the best possible trip that we tour guides could give them. William F. Sydow, summer park guide in 1967 and 1968 remembered Claude telling the guides, "we have to give the visitors facts; we just can't joke around with them."
Claude stood for discipline, discipline perhaps acquired during WWII. Long-time elevator operator Mickey Prescott, in an oral history interview said, "Claude was in the cave all the time, making sure everything was going fine. He seemed everywhere; showing up in the caverns anywhere at anytime; some guides almost thought that Claude could pop out of cave walls."
Claude believed in appropriate consequences and fairness for the guides. Bill Sydow told me that during the first summer a tour guide worked at the caverns Claude wouldn't allow that guide to do extra cave night trips. In the second summer he allowed the night trips, but only for those guides who didn't call in sick the day after the trip.
When I worked for Olive Johnson in 1971, I remember the scheduled tours of several hundred (and sometimes more) visitors that we led through the Main Corridor and Scenic Rooms. Concerned with precision timing for the tours, Claude would stand far off in the distance of the cave, alerting us by flashlight signals to either slow or accelerate the pace of the tour as necessary. We tour guides were expected to bring the 1 ½ hour guided tour into the underground lunchroom precisely on schedule. Claude considered exact punctuality a professional responsibility to the visitors
Claude's professionalism, demeanor, and knowledge made him the logical choice to take VIPs through the caverns. In one instance, he escorted Supreme Court Justice William O. Douglas during his January 1966 visit here
In all the oral history interviews that I have conducted with past employees or others who worked with or for Claude, I have never heard anything from those interviewees but respectful remembrances. Though seemingly stern, he was also constantly caring. Under Claude Fernandez's professional "wing" (his training and personal example), many tour guides went on to higher positions of responsibility. For example, Bill Jackson, a permanent tour guide in 1970 and 1971, recently retired as the superintendent of George Washington Carver National Monument, his second superintendent appointment.
Failing health required Claude to transfer to Chamizal National Memorial from Fort Union. Mr. Fernandez passed away on February 21, 1981 at the age of 58 in El Paso, Texas, leaving a wife, three sons, and a daughter. For those of us who worked with him at the caverns, Claude also left a legacy of "each and every day, doing the best we can, for the good of the caverns and for the good of the visitors."
Daniel Fernandez was born on June 30, 1944 and joined the army at a young age. Like Claude Fernandez, Daniel became a combat soldier early in his military career. Unlike Claude, Daniel, unfortunately, would never have the opportunity to have a second career to perform service for others in.
On February 18, 1966, while on patrol, the 22-year old Specialist Fourth Class Fernandez and others were ambushed by a Viet Cong rifle squad. Under withering, unrelenting gun fire, Fernandez and the others retreated without the chance to evacuate a wounded sergeant. Acting quickly, Fernandez, another sergeant, and two volunteers, under more heavy fire, fought their way to the wounded sergeant.
Immediately the fighting turned fiercer. Suddenly an enemy grenade landed amidst the American soldiers. Realizing the grave and certain danger to everyone, Fernandez vaulted over the wounded sergeant, directly landing on the grenade. His body took the impact of the blast, saving the lives of the four other soldiers, while costing Fernandez his own life. The young man gave his life in the service of others. The United States government recognized Fernandez's gallantry and bravery by posthumously awarding him the Congressional Medal of Honor, the nation's highest military award.
Today when I think of Hispanic Heritage Month and "honoring our past," I think of Daniel and Claude Fernandez, young men separated by time and place, but across the years, hardly out of high school, united in fighting for their country--performing service for others—significant contributions of the highest order. Both men put others first, with whatever time allotted to them.
The memories of Daniel and Claude Fernandez should be honored, wherever sacrifice and effort on the behalf of others matters, during Hispanic Heritage Month, or any time during the rest of the year.